I've created a site for Fiona Bridalwear which allows them to present and sell their bridal products online.
The client came to me after seeing the Bliss Bridal site that I created. The Bliss site uses a gallery system to present the bridal wear. Fiona Bridalwear actually wanted to sell their products online as well as present them.
The commerce system that I used for this site can be customised to sell almost anything and if you have a lot of products then it can also be customised to be updated using and Excel CSV file to manage many product updates instead of having to add or edit each product one by one.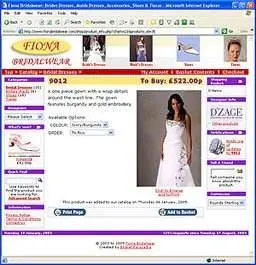 I created a system that allows them to add and edit products, descriptions, pictures and purchase options such as sizes, colours, etc for the products.
I spent about 1 hour showing them how to manage their site and now they add and edit products themselves with a little support about the no's and yes's of web site management.
The site allows buyers to choose products and their desired options, add them to a shopping basket and checkout to purchase using Paypal, Bank Transfer or cheque.
This site was required from a business perspective to reduce overheads. Instead of having a retail outlet with high overheads and little target market passers-by, it is much better for the company to spend their money on targeting buyers at appropriate bridal shoes and exhibitions and to simply refer them to their site for more details and to purchase.