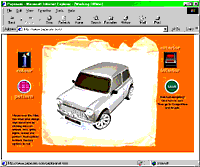 From July 1996 to February 1997 I worked as a freelance consultant and as a designer and producer with Ammirati Puris Lintas (London), a marketing and advertising agency.
Rover Cars, Britain's largest motor manufacturer had commissioned Ammirati Puris Lintas (APL), as their advertising agency, to develop an Internet site to advertise and market the new Mini car.
After a few months of effort by APL (design), Good Technology (Internet technology) and Artewisdom (3D/graphics), the project had not progressed as planned. I helped designed the site in collaboration with APL and put together a better skilled team and management process to help identify the key deliverables and help develop the site quicker and better.
The site was launched 2 months later, ready for the year's UK Motor Show and won multiple awards as follows.
Award
Date
Category
Details
Design Week Awards
March 1998
Multimedia Graphics
Winner
Revolution Awards
Feb 1998
New Media consumer marketing
Winner
Direct Marketing Association
Jan 1988
Interactive media
Gold
Institute of Sales Promotion
March 1997
Best interactive promotion
Silver
Marketing Design Awards
Dec 1997
Use of design in interactive media
Silver
Marketing Design Awards
Dec 1997
Use of design in automotive marketing
Silver
Marketing Design Awards
Dec 1997
Client Design Champions
Client of the Year – Rover
UK Web Awards
July 1997
Site of the Year
Silver
UK Web Awards
July 1997
Best Commercial Site
Gold
UK Web Awards
July 1997
Most Innovative Web Site
Silver
New Media Age Awards
June 1997
Best Automotive Web Site
Gold
Microsoft Cool Site
Dec-Aug 1997
Cool Site Chart number 1
Number 1 for 25 weeks
Personal Computer Magazine
April 1997
Best use of interactivity
Silver
Design Business Association
IT Design
Recommendation
British Design & Art Direction
May 1997
Interactive Media
Nomination
Direct Response Creative and Innovation
Awards
1997
Interactive media
Gold