I've created a site for BizSoftwareShop.Net which allows them to present and sell their software products online.
The commerce system that I used for this site can be customised to sell and type of digital download (programming code, music downloads, video, photographs, lessons & tutorials, e-books & literature, etc) and if you have a lot of products then it can also be customised to be updated using and Excel CSV file to easily manage many simultaneous product updates instead of having to add or edit each product one by one.
I created the site in a way which allows BizSoftwareShop.Net themselves to add new downloads and edit existing products.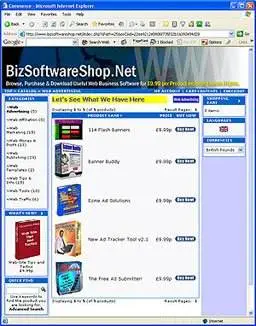 I spent about 2 hours showing them how to manage their site and now they add and edit downloads themselves.
The site allows buyers to choose products and their desired options, add them to a shopping basket and checkout to purchase using PayPal, Bank Transfer or cheque.
Once payments has been made by the buyer it lets them access the download for a limited period of time and allows them to download each purchased product a few times just in case their connection stops half way through a download.