From March 1997 to February 1999 I was a Director, KMA Partnership, London where I helped develop the internet site for The Royal Institute of Chartered Surveyors, London – the leading source of professional advice on land, property and construction.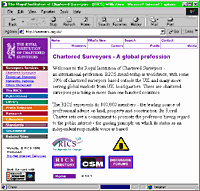 Royal Institute of Chartered Surveyors (RICS) had built an Internet site in-house that contained many hundreds of pages that eventually became difficult for viewers to get an overview of the content.
I designed a new look and feel for the site working with RICS's design agency and project managed the production of content templates for in-house maintenance of the site.