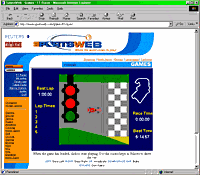 From March 1997 to February 1999, I was a Director of KMA Partnership, a small internet development company in London where I worked with BMP Interaction, , the interactive arm of marketing agency BMP DDB, and Reuters (Global) a world leading financial information and news group.
BMP were developing a global sports news site, Sports Web, for Reuters and wanted games to provide entertainment in addition to the news story content.
I designed and project managed the delivery of a state of the art Formula 1 Racing game with a specialist programmer that used only Java technology in order that users need not download multimedia plug-ins.
The game had been credited by Developer.com, a leading source for technical people and information, in their 'What's Cool' category.