I've designed and produced a site aimed at the shooting and hunting community of the world: www.shooting.sh
I have done this site for a client based a successful method used on another site to try and help set-up a new business by primarily using a website to generate sales enquiries.
The site is coded to automatically register with the major search engines, so as I do updates any new pages or changes to existing content automatically gets submitted and registered with search engines.
Over time, I've added: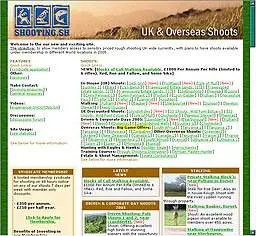 1) an online syndicate membership application and calculation form with the ability send an order offline and online. The the latter online method, the site is coded to automatically calculate the payment amount and take payment using PayPal.
2) Many video downloads.
3) An online booking and enquiry page.
3) More and more content as supplied from the client.
To date in 2005, the site got an average of 2500 to 3000 visitors per month and the client gets most of their new sales enquiries from the site.