Bliss Wedding Co-ordinators wanted a website to present their professional service levels as wedding advisors and managers using a well designed website.
They also wanted me to use the design of a ring as the basis for their logo.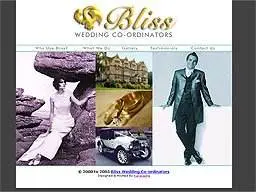 I created a new logo and website using a flash introduction, and created a template that could be used for all the other pages to present what Bliss did.
The site was registered with search engines and within a few weeks they started getting enquiries about their services.